Tap the Frog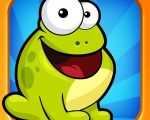 Tap the Frog is excellent tapping game that keeps your kids busy for hours. Toddlers and kids will help the frog to become a prince while they are having wonderful time! This free game created for Android devices under Toddlers baby category.
If your kids love android adventure games , Tap the Frog is perfect choice for you. In this popular app, there is little cute frog that expecting help from your toddlers. First of all, kids will help the frog while he is going to his lover. They have to make him jump, fly or paint before time runs out!
This android app provides clear menu and simple levels that your kids can easily handle it. Kids won't get confused with this amazing game. In fact, they love it. All they have to just tapping and being fast!
Tap the Frog consist vivid colorful images excellent backgrounds and cute sounds. With this android app, kids will be busy for hours so we also offer you free funny time for yourself. Besides, kids will develop their motor skills and concentration. If you want to join to your toddlers game, just challenge them because this cheerful game is appropriate for everyone of every age. Have fun together!

You can follow us on
Android Games For+