Toddler Animal Pop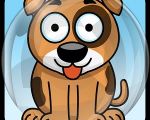 Toddler Animal Pop is designed for your toddlers to interact with up to 30 animals and popping all kinds of objects. This free game created for Android devices under Toddlers baby category.
Toddler Animal Pop is an android game for toddlers to learn more about animals. Your little kids need to select an animal and then pop the falling objects as fast as they can. At first, large objects fall slowly but as the game progresses they get smaller and faster. Also more animals will be included to game as your toddler moves on in the game. After popping all objects, the animal will be put in the zoo so that your toddlers can move it around, make animal sounds and play with it.
The game includes animals such as penguin, dog, cat, rabbit, bee, lion, monkey, butterfly, zebra and objects like fruits, stars, bubbles.  
Toddler Animal Pop also features the names and sounds of the animals. The game will help your toddlers and babies to improve their fine motor skills. It is a good choice for parents to help their little kids's learning while keeping them entertained.

You can follow us on
Android Games For+