Toddler Animal Sounds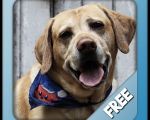 Toddler Animal Sounds is an educational android game for toddlers. This app helps your kids learn animals and their sounds. Your toddlers and babies will have a chance to see 20 different adorable animals. This free game created for Android devices under Toddlers baby category.
Toddler Animal Sounds provides you the best way for learning process. Your toddlers will hear their favorite animals sounds . Also, they will have a chance to meet different kinds of animals and their sounds.  With this game your toddlers can recognize the animals better than any other app because well chosen real pictures make it easier for them.
It is quite easy to play this game so that little babies can handle it without trouble. They just have to touch the screen to hear sounds or press the buttons for next step. With Toddler Animal Sounds app you can teach your kids lions sounds, cow moo and many other sounds with amusement.
If you wish, you can join your toddlers journey and share these beautiful moments together. Besides, there is no limit for this app so that older kids can entertain with it.
You can download this free version on your phones and tablets and if you want more different animals to show your kids you can always get full version of this app.

You can follow us on
Android Games For+