Toddler Colors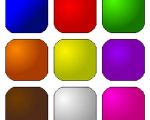 Toddler Colors is amazing instructional android game specially created for toddlers and babies. It aims to help your toddlers educational brain development. Babies will learn colors easily while they are entertaining with android game. This free game created for Android devices under Toddlers baby category.
Toddler Colors gathers music and colors together in this app. Kids love music! It has huge effect on child's development. With this splendid android app, music will make learning process easier!
Toddler Colors has really simple kid-friendly interface that helps your kids to control the app easily. This game is appropriate even for younger toddlers because it is so simple! When your toddlers tap to buttons they will be able to hear pronunciation of colors. Besides, they can learn how to write names of them. Looking like educational software and feeling like android game.
Toddler Colors provides various of colors such as purple,red,blue,pink and brown. Kids will improve their aural and motor skills while they are recognizing colors. We are totally sure that toddlers will love those android game with vivid colors!

You can follow us on
Android Games For+