Toddler Feeling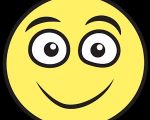 Toddler Feelings is instructional funny android game aims to teach toddlers feelings and different facial expressions. This app specially developed for toddlers and little kids. Toddlers will have terrific time! This free game created for Android devices under Toddlers baby category.
Expressing feelings is really important issue for childs development. While toddlers are growing up they try to understand their feelings. Sometimes they don't get the expression on your face whether you are happy or sad. This amazing game provides great support to toddlers to deal with emotions.
Toddler Fellings involves perfectly easy menu that little babies can get in the game without help. When toddlers tap the different faces they will see the name of emotions. This game offers various faces such as sad, happy, angry, sick, scared, confused, bored, cool,  excited, shocked,slippy, princess etc.
With this wonderful android app and its features toddlers will be able to communicate with you and their environment easily. Besides, little kids will improve their self expression skills. In this way, they feel more relaxed. Toddler Feelings offers you useful way to entertain your toddlers. 

You can follow us on
Android Games For+