Toddler Musical Instruments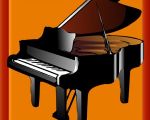 Toddler Musical Instruments is wonderful educational game specially developed for toddlers and babies development. Toddlers will learn different musical instruments names while they are having great time with their sounds. This free game created for Android devices under Toddlers baby category.
Music makes  education process easier for toddlers than any other things. In this case this andorid app is perfect for little toddlers development.  Babies will get excited about music!
Toddler Musical Instruments provides 24 different instruments and sounds. While your babies are busy with this app you can make more time for yourself. This game includes amazing cool instruments like drums, saxophones,guitars etc.
With this perfect game toddlers can recognize different sounds easily. You will be surprised when you see the development of your kids motor and aural skills. Also you will have a chance to explore your toddlers talents. We assure you that kids can not be bored easily with Toddler Musical Instruments. You will love it!

You can follow us on
Android Games For+