Toddler Shapes Kids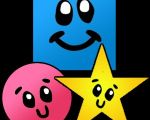 Toddler Shapes Kids is awesome android game specially created for toddlers. This wonderful app aims to teach your kids different shapes and their names. Your toddlers will enhance their skills while they are entertaining. This free game created for Android devices under Toddlers baby category.
Recognizing different shapes is important step of toddlers education. This wonderful app offers cute drawings of shapes with attractive sounds. With Toddler Shapes Kids, toddlers will be fully occupied long hours without boring.
Toddler Shapes Kids requires just tapping from your toddlers. So this android app is perfect even for babies. Besides, it provides really simple interface that your toddlers can have fun with it by themselves. When toddlers tap to shapes they are going to hear the names of the shapes with perfect pronunciation. When they tap the buttons second time there will be amazing music to makes them happy.
With this amazing game toddlers will have a chance to recognize triangles, squares, rectangles, hexagon, circles,stars and hearts. Toddler Shapes Kids improves kids  motor skills and helps them to learn colors and names easily. 

You can follow us on
Android Games For+