Toddler Shopping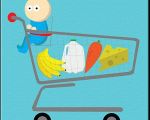 Toddler Shopping is highly recommended for its features. This app is excellent android game specially developed for toddlers. Babies will love shopping! This free game created for Android devices under Toddlers baby category.
If you are looking for an android game to entertain your toddlers, Toddler Shopping is just perfect for you. Toddlers will start to enjoy shopping and improve their skills at the same time.
Toddler Shopping doesn't include complicated android game rules so your toddlers will be able to play it without trouble. It  is perfectly appropriate for kids over the age of 1 and older. In this activity toddlers will drag the items and they will drop them in the cart. Kids will have a chance to buy things from dairy, produce or babies section. Besides Toddler Shopping comprises a checkout part in the end. It is just like a real shopping and its real fun for young brains.
With this amazing android game your toddlers will improve their motor skills. Besides, they can see different fruits and objects and it helps them to memorize names and shapes easily. This android app offers you the right balance of education and fun.

You can follow us on
Android Games For+