Toddler Sing and Play 2 Free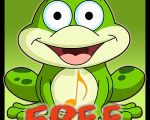 Toddler Sing and Play is a funny android game created for toddlers. This game offers amazing songs that keep your toddlers occupide long time. Little kids will love music with this wonderful app. This free game created for Android devices under Toddlers baby category.
Statistics prove that music is important for toddlers development. It enhances creativity and other abilities. Also, toddlers memorize words easily with music. In this case, Toddler Sing and Play provides the funniest way of learning names.
In this free version you have access to Old MacDonald Had A Farm but if you enjoy with this app you can get the full version any time. Old MacDonald Had A Farm provides 18 different farm animals. While toddlers are listening the song they learn the animals like cows,pigs and sheeps. Besides kids can control this game easily because it doesn't include complicated menu.
With Toddler Sing and Play, little babies will start to counting and realizing the colors. Also, it makes a big contribution to your toddlers concentration and motor skills. This android app is excellent choice for ages 2 to 4. Toddlers will love cheerful sounds and colorful images!

You can follow us on
Android Games For+