Toddler Words Lite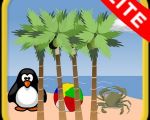 Toddler Words Lite is perfect instructional game for toddlers. This android app aims to teach little kids new words in funny way. Toddlers will love these bright images and scenes! This free game created for Android devices under Toddlers baby category.
Early education is really important for child development. You should be careful about the ways you choose to educate them. In this case we offer you this amazing android game. Toddler Words Lite provides both different words and scenes that creates bigger fun.
In this free version you will have an access to beach scene but if you like you can always upgrade it. In the full version, toddlers meet with 50 different words and 3 more scenes like fruits,farms city and sea. They can learn different objects,animals and different areas so it is totally comprehensive game!
Toddler Words Lite contains colorful images, cool sounds, cute animals and funny scenes.  With this educational game, babies will have a chance to meet different animals like cows,pigs,elephants and lions. So they will be able to recognize different animals easily. It is perfect choice for parents who want to enhance babies skills in cheerful way.

You can follow us on
Android Games For+