Toddler Words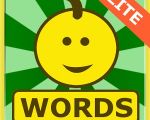 Toddler Words is an amazing flashcard and memory game for toddlers.This android app. includes animals vehicles fruits and many other words. Your kids will learn new words easily while they are having fun. This free game created for Android devices under Toddlers baby category.
Learning new words is one of the most important step of your toddlers development. With this game, your toddlers will get excited about new words. Toddlers Words is perfect choice for kids aged between 2 and 4.
Toddler Words provides your toddlers amazing flashcards. These flashcards will help your kids to learn correct pronunciation of words. Also this game has unique quize games that will improve your toddlers brain power. In addition to all of features, your toddlers will have a chance to improve their memory skills with its amazing memory game option.
Toddler Words includes 2 different categories and 167 words that keep your toddlers busy for hours. With its bright images and funny sounds toddlers will improve their abilities in entertaining way! Also, there is no ads, so you can totally trust it!

You can follow us on
Android Games For+