Toddlers Goal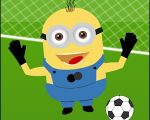 Toddlers Goal is a funny android game keeps your toddlers entertained with cute minions. This game offers you great improvement on your kids hand-eye coordination skills. This free game created for Android devices under Toddlers baby category.
Kids love minions and football and Toddlers Goal is a great combination of them. It is great simple game that amuses your kids long time.
In this game, your toddlers will try to beat toddlers team. Toddlers should kick at least 10 goals before the time ends up. This game just requires easy  finger moves that your kids can easily handle. However, we have to remind you that goalkeeper will become bigger and activity will get harder after each game. By this way Toddlers Goal will increase your toddlers ambition and keep them busy.
Toddlers Goal consists of adorable minions pictures and great sounds. Your toddlers will improve their skills and have fun at the same time!

You can follow us on
Android Games For+