Toddlers Kids Puzzles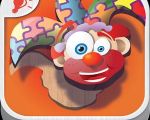 Toddlers Kids and Puzzles is the best educational puzzle game for toddlers and little kids. This game consist of wonderful pictures and funny sounds that immediately attracts your toddlers attention. This free game created for Android devices under Toddlers baby category.
Puzzle Games are the funniest way to educate kids and we are sure that they will adore Toddlers Kids and Puzzles! Also, this App is the best for kids according to Chicago Tribune.
In this game, your toddlers can hear sounds of every piece of puzzles names with clear voices. Besides Toddlers Kids and Puzzles offers this service in 3 different languages. Your kids can learn vocabularies in UK Engish, US English and Chinese.
Toddlers Kids and Puzzles will help your toddlers improve their motor skills. In addition this game is also developed for the kids who have autism or kids with speacial needs. Toddlers Kids and Puzzles perfectly proper for everyone for every age.So if you want, you can join your kids to enjoy their moment!
In this activity, when your toddlers complete a puzzle they will be rewarded various funny games. Also these rewards perfectly fit younger and special needs kids.
Toddlers Kids and Puzzles includes toddlers favorite objects and also it includes shapes, colors and alphabet. With this app. your kids can learn many things while playing!

You can follow us on
Android Games For+