Toilet Training - for Babies and Toddlers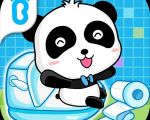 Toilet Training is a game developed for kids aged under 3. This android google play game offers you funny way to teach potty training to your toddlers. This free game created for Android devices under Toddlers baby category.
Potty training is a really important process of kids development. Parents have to be careful about their methods. This game is quiet useful that you don't have to worry about your kids potty training anymore!
It is really easy android game that aims to teach your toddlers proper behaviors about using toilets. Every single parent has to deal with this period and it`s never as easy as it seems. But, Toilet Training game will help you with its simple rules.
The game has really effective design and sounds that strikes little kids attention. Also, this game teaches your toddlers flushing the toilets and washing hands. Even it teaches saving water while little kids are washing their hands. On the other hand, your babies will improve their visual and motor skills with this app.
In other words, Toilet Training android game is the perfect choice to get your toddlers adopt this habit and have fun at the same time. 

You can follow us on
Android Games For+