Wash Pets Toddler Game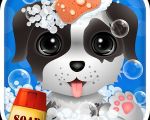 Wash Pets is a unique android game specially developed for kids and toddlers. In this game, your little kids can play with adorable animals. Wash Pets provides a funny way to keep your babies occupied. This free game created for Android devices under Toddlers baby category.
So many kids love animals, they always want to have one. Wash Pets offers you a simple way to make your kids dreams come true.With this game, your toddlers can spend time with their favorite animals. Little kids can wash the animals also they have many other options like feeding and dressing them.
In this game your kids can see the needs of these cute animals and understand how to meet their requests. By this way, your kids will learn responsibility.
This android game has really simple rules. Your kids just have to touch buttons and look after the animals. After washing process, they can also brush their pets hair and dry them. Then those little cute pets will look prettier with your toddlers help.
Wash Pets Kids Games improves your toddlers problem solving skills and teaches them to take care of animals. This game also provides really nice songs and lovely images that makes your kids happy. If you want fun and education at the same time you should try Wash Pets!

You can follow us on
Android Games For+