2 Players Basket Shootout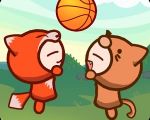 2 Players Basket Shootout is a simple and fun android game designed for 2 players. Spend some enjoyable time with friends while mastering in basketball. This free game created for Android devices under 2 players category.
2 Players Basket Shootout is a basketball game created for 2 players. In the game there are 8 different, adorable characters. Block your opponent, aim the hoop and shoot. To defeat your opponent, try various tactics. Do fake movements to surprise them, pretend to shoot to confuse your opponent and run around to make it harder for them to block you.
When you are defending, stick to your opponent and keep them as close as possible. Never let them get out of your sight. When you are shooting, throw the ball from afar and don't let them stop or block you. For each opponent you defeat, the game gives you 3 stars.
2 Players Basket Shootout is an entertaining 2 player game especially for kids and also if you are looking for a multiplayer game to play with your girlfriend, 2 Players Basket Shooter is a good choice. Challange your friends, show how skilled you are in basketball and have an enjoyable time.

You can follow us on