2 Players Duel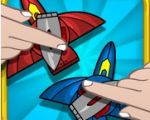 2 Players Duel is an entertaining multiplayer game designed for players to play on one device. In the game players control a jet plane and try to defeat their enemies while avoiding obstacles. This free game created for Android devices under 2 players category.
2 Players Duel is a simple and fun 2 player game which is played on one device. Players share the same screen and experience the adventure together. In the game, players control a jet plane and the goal is to defeat your opponent. While your jet is moving, press the fire button for sending rockets to your opponent. If you can aim correctly and the rocket can hit its target, your opponent explodes. 
But it's not that easy to destroy your enemy. While moving, you will encounter many obstacles and you have to avoid crashing into them and keep moving at the same time. When a player crashes into an obstacle, it is counted as a loss, ramming as a draw.
The game ends when players beat their opponent ten times. Whoever achieves this, is the winner. 2 Players Duel requires strategy, clever tactics and good reflexes. Play this 2 player android game in your free time and have fun with your friends.

You can follow us on