8 Ball Pool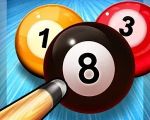 8 Ball Pool presents the entertainment of original 8 ball game on your smart phones and tablets. Play with people all around the world or challenge your friends to have fun with the best 8 ball game. This free game created for Android devices under 2 players category.
8 Ball Pool is the traditional 8 ball game with colorful visuals and high quality graphics. In the game, players can improve their skills in practice arena, take on the world in 1 vs 1 matches or challenge their friends via Facebook and Miniclip.
In the game it is possible to customize your cue and table. In the 1 vs 1 matches there are Pool Coins for winner to take. Players can use these coins to enter high ranked matches or to buy bigger stakes and various new items. By leveling up, face new challenges continuously and be able to enter high ranked matches. It also enables you to get access to more exclusive match locations, where you can play against only the best 8 Pool players.
8 Ball Game is a fun and highly loved game all around the world and now it is possible to enjoy this beautiful game with multiplayer or 2 player modes. Play 8 Ball and have fun with your friends.

You can follow us on