Can Fighters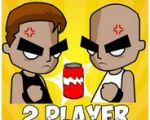 Can Fighters is a simple and fun 2 player android game for people to play on the same device. Join the two bored kids in the backyard and defeat your opponent. This free game created for Android devices under 2 players category.
In Can Fighters, two bored kids play an unusual multiplayer game in the backyard. The goal is to kick the can and hit your opponent in the face, before he does the same thing to you.
There are different objects in the game, objects that can hurt your opponent or objects that can hurt you. Kicking the can and hitting them in the face hurts your opponent while kicking the 1 ton iron boulder hurts your toe and reduce your health.
Can fighters is a simple, enjoyable and fun android game for 2 players. Kick the can in 3 different rounds of ultimate faceoff, defeat your opponent and be the winner. Can fighters is a good pass time activity for friends, brothers, sisters or couples.

You can follow us on