Puppet Ice Hockey: 2014 Cup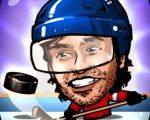 Puppet Ice Hockey presents you all the excitement and joy of world class hockey tournament. Play splitscreen multiplayer mode to play with your opponent on the same device, at the same time. Train, practise and keep scoring! This free game created for Android devices under 2 players category.
In Puppet Ice Hockey, players can find all the famous ice hockey sock puppets and teams from 2014/1015. In the game players need to sharpen their skates, put on their jerseys and grab their sticks. Choose your position; are you an offensive slapshot type or a defensive goalie guy? Or may be you have the talent in stickhandling.
Practice for every match, train your nofeet characters overtime, complete cross checks and body checks, then keep scoring. Take your favorite hockey players as examples and improve yourself.
Puppet Ice Hockey features:
16 most favourited sock puppet teams
More than 60 funny cartoon puppets of famous players
Big head 2 player mode in splitscreen multiplayer on the same device
 Puppet Ice Hockey: 2014 offers the joy of world class hockey tournament on your andoid tablets and smart phones. Play in the splitscreen 2  player mode for having the most exciting and enjoyable time with your friends, brothers and sisters.

You can follow us on