TicTacToe Online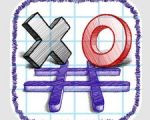 The joy of classic Tic Tac Toe is now available on your smart phones and tablets. Play the game with your friends connecting via Bluetooth and see whose strategy is better. This free game created for Android devices under 2 players category.
Tic Tac Toe is a highly popular and classic game around the world. Actually, the goal of the game is very simple: line your signs horizontally, vertically or diagonally, without any gaps.
First of all each player chooses their signs, "X" or "O", and then they take turns at putting their signs one by one into the squares, on the board. When players complete a horizontal, vertical or diagonal line with their signs before the opponent person, they win. When played on one player mode, TicTacToe Online features three difficulty levels such as: low, mid level and high level. It is also possible to play the game with online rivals on the internet.
Players can turn the game into a 2 player game by connecting their friends via Bluetooth. Choose the Play via Bluetooth option and enjoy the classic Tic Tac Toe with your friends, without worrying about papers or pencils. TicTacToe Online is the android version of one of the most classic and favorite games of all time. Play it with your friends, parents, sisters, brothers or girlfirends/boyfriends to spend some enjoyable and challenging time together.

You can follow us on