War: Play Smart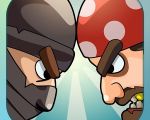 War: Play Smart is an addictive and entertaining 2 player game. Be smart as a pirate or as a ninja, defeat your opponent and have fun simply using the same device! This free game created for Android devices under 2 players category.
War: Play Smart is an action game, designed mainly for 2 players and includes different quick games. In the game, players either play smart like a pirate or like a ninja and try to defeat their opponent. In 2 players mode, gamers share the same screen. Competitive 2 player mode offers an action-filled, endless 1-on-1 game. War: Play Smart also features a challenging single player mode for you to have fun on your own.
In War: Play Smart, players choose to play as a pirate or as a ninja. Select your team, unlock new characters and defeat your opponent. The game has been praised as the best 2 player game by different websites and reviewers.
War: Play Smart offers fun and challenge for friends, families and couples. It's an enjoyable and addictive 2 player android game for players of all ages.

You can follow us on