Awesome Shape Puzzles for Kids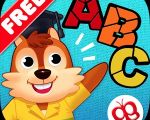 Awesome Shape Puzzles for Kids is one of the perfect example of puzzle games. This instructional android app is wonderful choice for toddlers. Target of this game is teaching kids shapes,letters and numbers. This free game created for Android devices under Toddlers baby category.
Puzzle Games provides effective way to toddlers education. In this case we offer you the coolest puzzle game. Awesome Shape Puzzles for Kids consists different categories shapes and useful words.
"Awesome Shape Puzzle for Kids" android game doesn't include difficult interface kids can easily play with its simple games. This wonderful android app helps toddlers learn letters,colors and numbers in funny way.
Game Features:
-12 different puzzle categories
-150 different pictures
-Clear voice over and amazing musics
-15 different languages
-Various levels that suits every capability
-It is also appropriate for kids with special needs
Kids will improve their language and memory skills with this amazing android app. They will be occupied for hours with colorful images and funny sounds. This game will definitely meet your expectations!

You can follow us on