Interactive Telling Time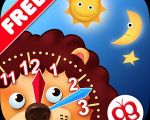 Interactive Telling Time is highly recommended app designed for toddlers. This android app aims to teach little kids digital and analog clocks while they are having fun. You will love this awarded game! This free game created for Android devices under Toddlers baby category.
Learning time time sense is really important part of your toddlers development. Kids keep asking questions include "when" in it. Parents can't explain the time sense easily to their kids. In this point, Interactive Telling Time will help you!
Interactive Telling Time android game provides simple navigation to toddlers they can easily understand and love it. . This android app is appropriate for kids aged between 3 and 12. They will be able to learn analog and digital clocks straight away!
Game Features:
-8 different clocks that draws kids attention immediately.
-Kids can set the time and read clocks
-Kids can understand AM/PM system
-Games with different levels
-Puzzles
-Quiz Games
Interactive Telling Time contains amazing colorful pictures and games. This activity expands kids capacity. This instructive android app keeps kids busy for hours. You will love it!

You can follow us on